Holy Trinity's Preschool Program
Our first-rate, preschool program prepares your child for kindergarten on their individual level. If your child is learning how to read already, or has fine motor skills to write, or even enjoys math we will nurture those strengths to help propel them forward.
Your preschool child will participate in activities that will enrich their development in five areas: cognitive, social, emotional, language, and physical.
Your child will also engage in active learning and active play, with a hands-on approach. This is the process by which young children explore their world: observing, smelling, tasting, listening, touching, and playing.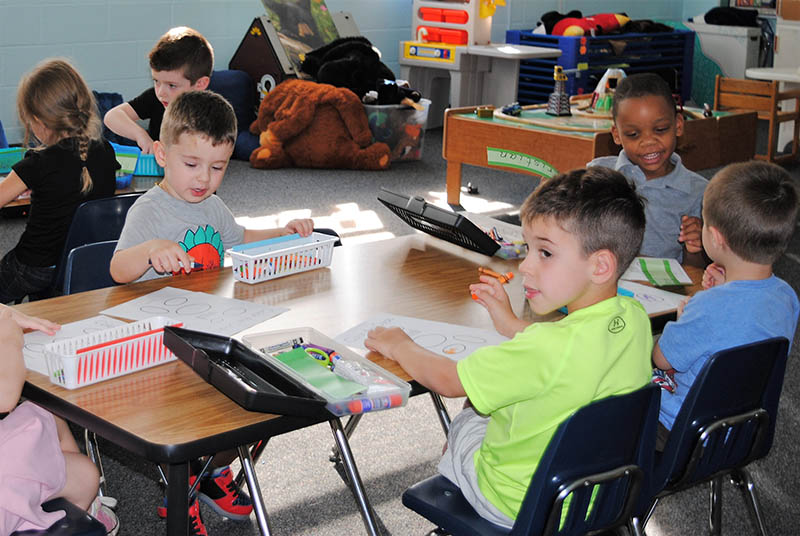 How Old Does My Child Need To Be?
Any child who is 3 years old and potty trained by the first day may sign up.
Preschool Hours
| | |
| --- | --- |
| Morning Classes | 8:10 AM – 11:30 AM |
| Afternoon/Extended Classes | 12:00 PM – 3:00 PM |
| Full Day Classes | 8:00 AM – 3:00 PM |
Preschool Schedule
Preschool Daily Program Schedule
| | |
| --- | --- |
| 8:20 | Hours |
| 8:45 | Circle Time – Story, Weather, Calendar, discuss activities of the day |
| 9:00 | Music/ Movement (M, W, Th), Exercise (Tue & Fri) |
| 9:15 | Restroom |
| 9:30 | Snack |
| 9:50 | Outdoor Play or Gross Motor Inside |
| 10:20 | Faith |
| 10:30 | Group Time – Science, Social Studies, Language Arts, Etc. |
| 10:50 | Centers/ Teacher Assisted |
| 11:20 | Restroom |
| 11:30 | Lunch or Dismissal |
Extended Daily Program Schedule
| | |
| --- | --- |
| 11:30 | Lunch and Recess |
| 12:30 | Restroom |
| 12:40 | Rest Time on Mats |
| 1:15 | Circle Time |
| 1:30 | Group Activity |
| 1:45 | Outdoors / Centers |
| 2:10 | Restroom |
| 2:20 | Snack |
| 2:45 | Hours |
| 3:00 | Dismissal |